The volleyball players of České Budějovice are waiting for a cup battle with Brno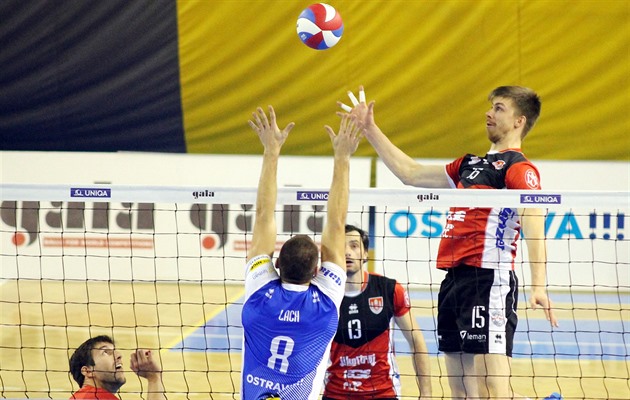 Jihočeši played the match in the strongest team. Filip Palgut was replaced by Philip Christiane, Radek Mach and Petr Ondrovič, Petr Michálek and Jiří Karffer, and Martin Kryštof, respectively.
"The first two sets were excellently defended , and we have obtained the necessary point and procedure. In the third set, some players failed to keep the performance standard to bring the match to the winning end.
On Friday's match in Ostrava, it was a good thing that we advanced and all the players played. But I'm dissatisfied with how some players showed up. With what they did on the pitch, "Jihostroj's head coach René Dvorak told the club's official site.Coach Dvorak then sent to the next three sets in the set of scumbler Pawla Halab, Tomáš Fila, blocker Valerie Todu and universe Mark Šotol.
In the quarterfinals Ceske Budejovice will come to Brno. The next three teams are the Kladno and Ústí nad Labem, Pribram and Liberec teams, and finally Zlín and Karlovy Vary. The Czech Republic's fourth round will start Jihostroj home on Thursday, January 11th. The cup will end on Sunday, February 25th, when the final will be played, where Jihostroj has not played yet since 2012. "Every year it's the same, we want to go back to the cup as long as it is in the league," Dvorak said.
Tomorrow, the volleyball players of České Budějovice will meet the Ostrava team again. This time, however, in the extra-league fourteenth round.Rene Dvorak does not see it as a bigger advantage.
"We take it as a next game. Perhaps it will be a plus for us that we know their set up somehow and we've seen them play a few days ago. But the extraliga is another competition than the cup, "said the coach. "In Ostrava we were able to win two sets, but now we have to perform much better on Saturday than on Wednesday and we have to concentrate all over the match," Rene Dvorak said.
Tomorrow begins a match against Ostrava in České Budějovice sports Hall at 6 pm. After 13 rounds, Jihočeš is in the extra league table two points behind the leader of Liberec.Ostrava is the seventh.